Thailand has, since many years ago, been one of the top destinations in the world for medical travel and in particular for plastic surgery. People travel from all over the world to have surgery in Thailand. Whilst cities like Phuket and Chiang Mai are destinations for medical tourism, Bangkok still continues to be the main destination boasting the majority of the large international hospitals and the world-renowned United States owned hospital The Bumrungrad International.
If you would like to have cosmetic surgery in Thailand you can contact us for any hospital recommendation. We have been providing surgery in Thailand for more than thirteen years now. We only work with the best cosmetic surgeons and JCI (Joint commission international) approved hospitals which mean that our hospitals and plastic surgeons in Bangkok operate to the highest of international standards. So when trying to find the best clinic in Bangkok, surgeon or international hospital we can provide you with all of the information that you might need.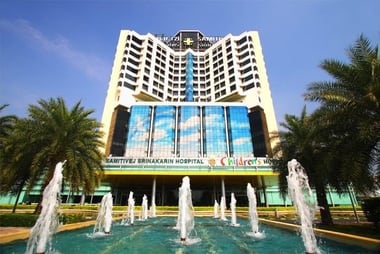 We are able to refer yours to specialist surgeons with which to have your surgery done. What we mean by that is, if you would like to have breast augmentation surgery, we will refer you to a breast surgery specialist and if you would like to have a nose job done we will refer you to one of Thailand's leading rhinoplasty surgeons. You will see from reading many forum posts that year after year Lotus Medical International has the best client feedback in the industry. Our clients always comment on what great plastic surgery outcomes they have and the amazing level of customer service which we provide.
Not only can we help you to arrange your surgery in Bangkok but we can also help to book hotels or to advise on hotels. There are serval world-famous hotels in Bangkok like The Banyan Tree and The Shangri La Hotel, however, when travelling to Thailand to save money on the costs of having surgery you may not want to book this sort of hotel class. We can recommend great hotels close to any of our hospitals at great costs, we can easily show prices to enable you to make an easy choice depending out what hotel type you would like.
When having plastic surgery in Bangkok we also provide nursing support services, we will arrange all of your transfers to and from the airport and to all of your cosmetic surgery appointments. For many of our clients, when travelling to Thailand or Bangkok for surgery, they are coming to Thailand for the first time. We, therefore, decided years ago to have nurses that can support each individual client through their time in Bangkok as it can be a nerve-racking time. All of our nurses speak English and they know how to support you fully throughout your surgery. All of our hospitals will allow a guest to stay in the hospital with you when having plastic surgery, so if your husband travels with you for instance, then it will be possible for him to stay in the hotel room with you.
If you would like to know more about having your procedure in Bangkok Thailand please get in touch and one of our medical team will be happy to assist you in any way.