Liposuction can do away with the fat in specific areas such as the abdomen, buttocks, thighs, upper arms, chest, back, face, neck and chin. During liposuction, fat cells are surgically removed to leave the skin looking flatter and tighter.
We use the best surgeons and nursing staff to ensure that you are in the safest hands. Furthermore, your wallet and your budget will be glad to see the liposuction cost in Thailand sitting at about 30-40% less than in western countries.
What is the procedure for liposuction?
Once your surgeon has reviewed your photos, he will classify them into different areas and explain in detail which areas he feels you need to get the results you want. Liposuction and laser liposuction is done under a general anaesthetic. During the procedure, a small incision will be made in the chosen area of treatment. A fine solution is then passed into the area via a small cannula or a fine tube to break up the fat cells, which are then removed by a syringe or a vacuum pump.
After surgery, you may experience some swelling and bruising, but this should subside within a week or two. You will be required to wear a compression garment at the site of surgery for a few weeks to stop swelling and aid the recovery process. Once you arrive at home you should be fine to return back to work, however, we strongly recommend no strenuous activity for 4-6 weeks.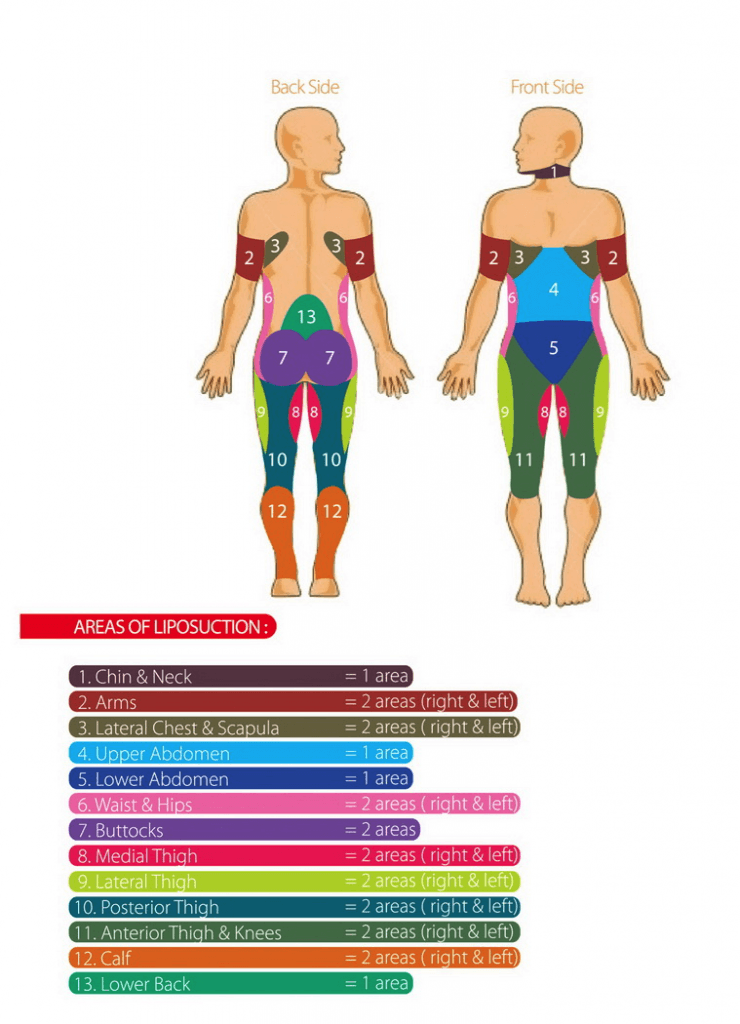 The liposuction we offer
Based in Phuket, we offer both traditional liposuction and laser liposuction that will help you reveal the tight, taut and youthful body that you've always had. The range we provide includes:
Thigh liposuction
Breast liposuction
Stomach liposuction
Face liposuction
Read more about vaser liposuction
Your safety is paramount to us and to the surgeons so you can be assured you will be in only the best and safe hands during you liposuction journey here with us in Phuket, Thailand.
So when should one undergo liposuction? Keeping in mind that most people lose around 2-3 kgs with liposuction, it is not a method to reduce weight. It is a contouring procedure used to create a better shape by removing fat cells. If you feel that your body is no longer improving through diet and exercise, liposuction should be a consideration. Common areas targeted include the abdomen and thighs although many other areas are also done.
When to consider liposuction
Liposuction is a decision that requires thought and reflection. Our team of experienced surgeons will advise you during your consultation to equip you with all the information that will allow you to make an informed decision.
Liposuction is a great option if you find it extra difficult to lose fat from a specific area even with good diet and exercise. People often feel very self-conscious and unhappy if they have areas on their bodies which are out of proportion to the rest of their body. Removal of the fat cells during liposuction leaves the skin smoother and restores the natural contours of the body. Let us help you bring back a body shape that you are happy and comfortable with.
Our award-winning team is dedicated to helping you achieve your body image goals through attentive discussion and consultation, surgical expertise and proven experience. Lotus Medical International will guide you through your entire surgical journey with the utmost care.
We are professionals dedicated to helping you achieve your best body. Contact us today.
Thailand: +66 (0) 920701808 | AUS +61(02) 80061629 | UK: +44 (0) 2071933595