Mini Facelift Surgery in Thailand
You might have noticed the loss of definition to your jawline due to excess fat tissue or sagging skin and you'd like to restore that youthful look. If that's you, then a mini facelift might be the thing for you. Learning more about the basic principles of this procedure can help you have an informed consultation with your surgeon and sum-up a treatment plan that will give you beautiful and natural-looking results.
Mini facelift surgery is appealing to many women and men as it addresses some of the most conspicuous signs of aging. For instance, some people experience hormonal changes and are genetically susceptible to losing definition to their jaw. Due to this, many patients opt for mini facelift surgery to reconstruct this definition.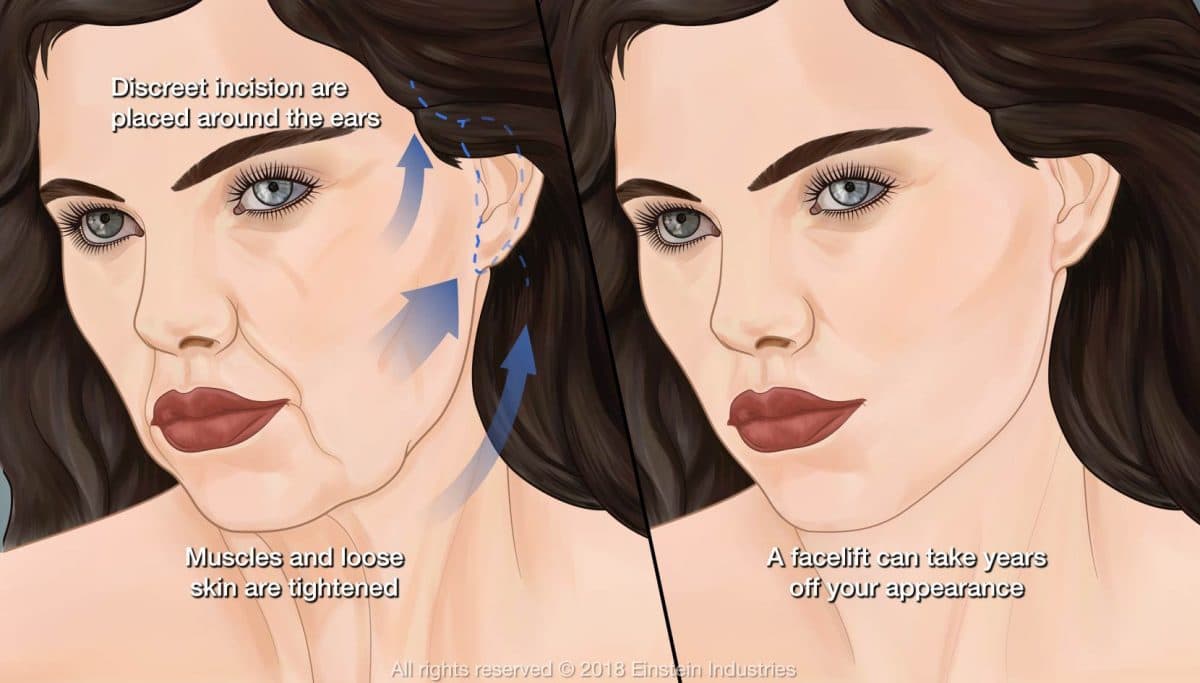 Planning and Preparation
To start, you'll need to consult with your surgeon. As you consider having any cosmetic surgery, your doctor must give you several different options, instead of one-size-fits-all or excessive procedures. Also, before having any facelift procedure, it is particularly important to pick a plastic surgeon who consistently delivers excellent results and performs face-lift surgeries frequently.
Men, it's noted, should choose a surgeon specifically trained in performing male facial cosmetic surgeries. Since the male facial anatomy differs from that of females, this step will guarantee natural-looking results. Again, you should find out the cosmetic options available for you should the results of the procedure fail to meet the goals you discuss.
After you and your plastic surgeon have come up with your surgical plan, proceed to schedule your procedure. You might have to ask a relative or a friend to drive you from the clinic.
Before the mini facelift, anaesthesia will be administered. Often local anaesthesia is suitable for a mini facelift as it guarantees a patient's comfort, and it can be administered and not require a breathing tube. At the same time, the patient's jaw will stay in its natural position, thus allowing a surgeon to deliver accurate treatment.
The Procedure
For the mini facelift procedure, your surgeon will create an incision in front of the ear, then extend from bottom of the earlobe to the hairline, behind the ear. The pattern and length of the incisions will depend on your desired results and the surgeon's technique.
Next, your tissues are pulled upwards and outwards toward the ears. This method reduces the appearance of wrinkles, decreases sagging jowls and skin.
Once the SMAS (superficial muscular aponeurotic system) and skin stretch to a position that shows your natural facial contours and bone structure, they are stitched into place, while excess tissue is clipped away. Here a surgeon might use permanent sutures, surgical staples or the removable sutures for the SMAS.
Generally, a mini facelift might take nearly two hours to complete. SMAS mini-lift has become standardised of care since skin-only (cutaneous) facelift surgery cannot deliver natural-looking results.
Getting The Most From a Mini Facelift
While no surgery can have a middle-aged patient looking like a teenager, still conservative procedures such as a mini facelift will help restore facial contours for an attractive look at any age
A mini facelift aims at giving patients results that are natural-looking. Also for maximum benefits, choose a skilled surgeon who has a reputation for delivering beautiful results, as you are likely to get an enhancement that will give you a rejuvenated and refreshed appearance.
Maintaining Your Mini Facelift
Results from a mini facelift can last 5 to 10 years. There are different kinds of non-surgical methods that are minimally invasive that may help improve and maintain your mini facelift results.
Some popular treatments to consider before and after getting a mini facelift procedure include:
Dermal fillers to give you youthful volume to cheeks, lips, and other parts of the face.
Fractional and ablative laser treatments for skin blemishes such as acne scarring and large pores.
BOTOX injections to stop muscle contraction temporarily that cause wrinkles and fine lines.
Fat grafting (fat transfer), which involves the removal of unwanted fat from one body part, like from the neck, then injecting it to the face.
Using Platelet-rich plasma (PRP) injections, also know as Vampire Facelift that uses your isolated growth factors for increasing blood flow and collagen production, which is said to support skin tone rejuvenation.
Surgical fat removal or liposuction to get rid of stubborn fat deposits while restoring definition for specific parts of your face.
Exilis treatments that use radio-frequency technology for tightening the skin and increasing collagen production.
Besides having non-surgical and surgical treatments, staying healthy in general will be very beneficial to how you look. It's also recommended that you avoid smoking before your surgery as it will help you heal thus you will look your best after recovery.
Your surgeon might prescribe specific skincare products and vitamins to take ahead of and after your surgery to retain your skin's health. Also, ensure to maintain a healthy lifestyle which includes regular exercise, taking a balanced diet, avoiding tobacco and limited alcohol consumption.
Having a mini facelift can shave off some years and with a great skincare regimen and leading a healthy lifestyle can slow down the development of new aging signs.
Learn more about our Thailand facelift surgery procedures