Breast Implant types
Our surgeons use silicone, gel implants provided by Mentor. The implants come with a life time guarantee. Implants come in either a round or a tear drop shape. The tear drop shape implants can give a more natural look although our surgeons are able to achieve equally as natural results with round implants. The choice of shape can depend on the type of outcome you would like and also weather there is more upper or lower pole fullness. If you already have fullness in the upper pole of the breasts then tear drop implants may be better suited to you. If you would like to create more upper pole fullness then the round implants can achieve this. Your surgeon will advise which shape he thinks would work best in accordance to your desired outcome and frame. Tear drop implants can also be used to lift the nipple line.
Breast implants come in a huge variety of sizes, ranging from cc – cc. Again, your surgeon can help you to decide which size would be best for you. The implants also vary in profiles, moderate profiles, moderate plus profiles and high profiles are available, an image of each can be seen below. The implants also vary in width. Our surgeons are breast surgery specialists who are highly skilled at selecting the perfect implant for each individual body so don't worry if you don't know which implant you would like or need. All of these decisions will be guided by your surgeon after he fully understands what your desired outcome is.

Incisions
The most commonly used incision for breast surgery in Thailand is an inframammary fold incision (IMF.) The incision is made in the breast fold. This type if incision is well hidden and surgeons are able to easily place the implant this way, giving you the best results.
Sometimes the surgeons will recommend moving the areolar (nipples) to better positions when having breast augmentation. In this case an incision called a circumareolar incision is made the surgeon will then perform a circumareolar lift and also place the implants through this incision. The incision is great as it completely blends in with the nipple. Clients should be aware that when having a circumareolar incision there is a 50% chance that you won't be able to breast feed after the surgery. Nipple sensitivity can also be affected, this can sometimes return with time.
If a breast lift and enlargement is needed then the surgeon will use the circumareolar incision plus there will be another incision from the bottom of the nipple vertically down to the breast crease, this is known as a lollipop incision. For more severe grades of breast ptosis then the surgeon will use the lollipop incision with the IMF incision, this is known as an anchor incision.
It is possible to have an incision in the armpit when having breast implants although this is rarely recommended as it isn't the preferred method for the surgeons; it makes placing the implant difficult which can affect the results.
Our surgeons are extremely experienced and use the most advanced incision techniques; the scares a neat and small and fade considerably over time. Eventually the incisions are barely noticeable as they lighten in color with time.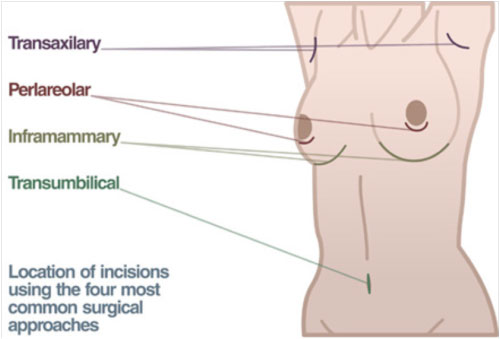 Placements
Implants can be placed over the muscle, under the muscle or a dual plane placement can be used. The most common types of placements are under the muscle and dual plane. Under the muscle creates a natural look and the muscle helps to keep the implant in place. Dual plane means that half of the implant is under the muscle and half is over the muscle. Some surgeons prefer this placement as they feel they can get a better result with this. Over the muscle placement is often only used in special cases such as body builders or if there is a reason that over the muscle would look better due the client's amount of breast tissue or muscle tissue.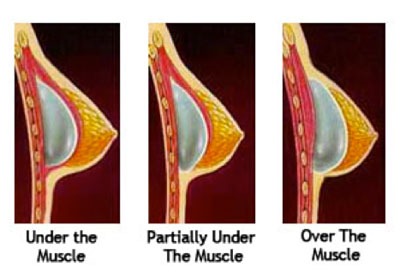 Recovery
What will recovery be like? Many women say that the sensation after surgery is more uncomfortable than painful. If however you do experience pain then you will be prescribed painkillers. Your breasts may be bruised and swollen after surgery. You will be advised not to fly for 6 days. It is best to return to work after 1-2 weeks unless you have a very strenuous or active job in which case you may be advised to take a longer time of work. You will wear a light dressing which needs to be kept dry until you have your follow up consultation with your surgeon. This will be between 5 – 6 days after your surgery. After this it is often advisable to wear a sports bra for a few weeks to really help to keep the breasts in shape. There will be slight scarring which will still be pink for 1-2 months but which may take many months to completely reduce.
Risks
Are there any risks involved? Breast Augmentation is one of the most commonly performed cosmetic procedures and generally is done without complications. All surgery however does carry an element of risk. Complications can include capsular contracture where scar tissue hardens around the implant or rupture of the implant when a hole develops. With the introduction of newer implants both of these risks are now reduced. From time to time women can experience changes in sensation. The nipple can become more or less sensitive. This is almost always temporary and lasts for a few months but rarely this can be permanent. All of these risks are minimised by experienced surgical technique, specialist care and by using highly qualified surgeons and nursing staff. The risks are also minimised by making sure that you are in good general health before your operation. Your consultation with your surgeon will give you advice on how best to achieve this as well as letting you know of any risks which may apply to you.
FAQ's
Who is breast enlargement surgery for?
Women who have small breasts and feel unhappy with them
Women who want to improve their appearance after pregnancy
Women who have lost size in their breasts after losing weight
Women who want to have a more proportionate figure
Women who may have one breast smaller than the other

What can I expect?
Women who have breast surgery find that enhancement of their figure really can help to improve their self-esteem and self-confidence. Breast size can be increased by up to 2 sizes, so for example, from a B to a D. This is decided upon during consultation with your surgeon. Quite often women have breast enlargement surgery in combination with a breast uplift to enhance not only the size of the breasts but also the shape and height of the bust line.

What does surgery involve? 
During the procedure small incisions are made in the natural crease underneath the breast or underneath the armpit and either silicone or saline implants are inserted. During your consultation your surgeon will help you choose which type of surgery and which type of implant suits you. Prior to you surgery you will meet with your surgeon to discuss any questions which you may have. The surgery will last between 1-2 hrs and will require a general anaesthetic and therefore an overnight stay in hospital.
Before & After




More information: