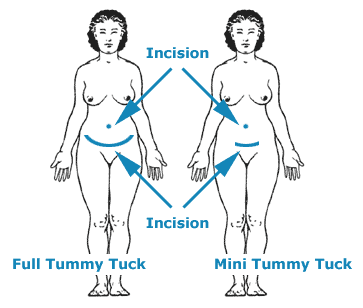 Do you find that even with diet and exercise you cannot achieve the flat stomach you have always wanted? Tummy tuck surgery removes excess skin and fat from the tummy area to create a flatter, younger looking and more taut appearance.
Many people choose to combine tummy tuck surgery with liposuction to help them to achieve that new slimmer waist. You can decide if this is an option for you during your consultation with your surgeon. There are two different ways of doing a tummy tuck and again the best method for you will be decided during your consultation.
Who is tummy tuck surgery for?
Tummy tuck surgery is for anyone who has loose skin around the stomach area that they cannot shift through diet or exercise. Quite often people who have lost a lot of weight will have loose folds of skin around the stomach area and this operation is ideal for them. It is also for used for women who have stretched skin and muscles after being pregnant and who have no more plans to have children. Tummy tuck surgery can restore confidence to people who feel self-conscious due to a flabby overhanging stomach.
What can I expect?
You can expect a slimmer waist with a flatter and tauter appearance. You can expect excellent slimming and shaping results enabling greater self-confidence. The results are usually long lasting as long as you follow a balanced diet and exercise. If you do put on weight following the surgery fatty bulges can appear.
What does the surgery involve?
Tummy tuck surgery is done under general anaesthetic and requires an overnight stay in hospital and usually lasts for 1-2 hours.
In most cases an incision is made from hip to hip just around your bikini line. An incision is also made to free your tummy button. Loose skin and fatty tissue are removed, any damaged abdominal muscles are repaired and a new hole is cut for your tummy button. The incisions are then sutured closed.
Many people choose to have liposuction at the same time as their tummy tuck to create an even smaller waist.