---
What made you want to become a plastic surgeon?
My parents are doctors and my father who is a surgeon inspired me to become a surgeon too. When I was young, I was interested in art and design and I think it's an advantage to use knowledge of art and design as a plastic surgeon.
How many years have you been practicing as a plastic surgeon?
More than 20 years
What do you like most about your job?
Facial surgery, Breast surgery and Body contouring surgery, especially liposuction and lipo-filling
What do you find to be the biggest challenges for you with your job?
Biggest challenge is how to propose the operative plan and perform the operation to meet every patient's expectation.
What do you like to do outside if work, in your spare time? Do you have any hobbies?
Bike riding, Running
Dr. Pongsatorn's surgical techniques are state-of-the- art. He is particularly interested in facial rejuvenation, breast surgery, and advanced body contouring surgery and the results of the micro surgeries that he has conducted are also widely admired.
The beautiful, natural results of the procedures he performs will increase his patients' self-confidence and self-esteem. Dr. Pongsatorn's goal of improving a person's quality of life through plastic and reconstructive surgery will certainly be met.
Services:
Patients for cosmetic surgery often requested by Dr. Pongsatorn's patients include Breast Augemntation, Breast Lift, Breast Augmentation with Lift, Breast Reduction, Liposuction, Vaser Liposuction, Tummy Tuck, Face lift, Neck lift, Under Chin Correction, Nose Augmentation. Also for non-surgical skin treatments, such as Botox, Juvederm, Restylane and Skin Cancer Test (Mole, Carsinoma).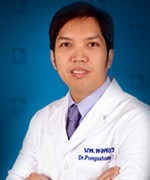 ---